Garibaldi - Curb Chain bracelets massiv 925 Sterling Silver!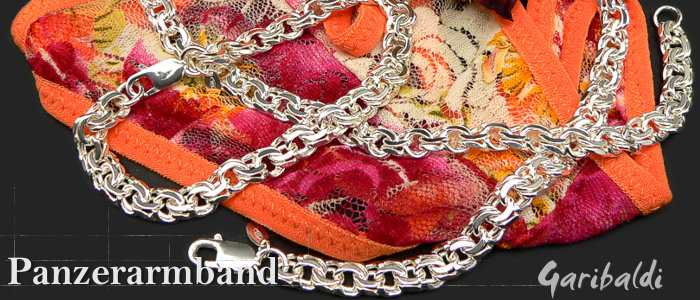 8,5mm 7,0mm and 5,0mm width. All the silver bracelets are available in lengths from 17 - 25cm (in 1cm increments). Special lengths are also deliverable on request.
More sub categories:
Mit einer Silberkette oder einem Armband in einer 925 Sterling Silber -Legierung, (Das entspricht einem Feingehalt von 925 zu 1000. Die restlichen 75 tausendstel Anteile der Panzerkette einer 925-Legierung bestehen in der Regel aus Kupfer. Wir versichern Ihnen, dass alle unsere Silberketten im Shop frei von Cadmium und Nickel sind), können Sie ein eindrucksvolles Statement setzen und Ihren individuellen Style unterstreichen. Die Herren oder Damen Ketten sind in verschiedenen Ausführungen erhältlich. Je nach Vorliebe kann die Kette in einer kurzen (von 45cm 50cm 55cm 60cm 65cm) oder einer längeren Variante (bis 120 cm) (in 5cm Schritten erhältlich) getragen werden, unsere Armbänder in Silber stehen Ihnen in den Längen von 16cm 17cm 18cm 19cm 20cm 21cm 22cm 23cm 24cm und 25cm in Ausnahmen auch Länger zur Auswahl.
New products