Curb Chain Bracelets massiv 925 Sterling Silver!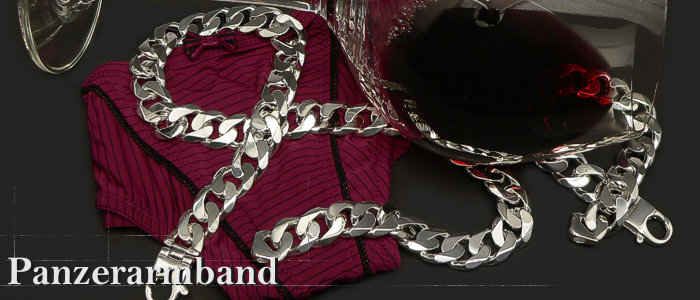 Here you will find Curb Chain Bracelets of 3,3 - 12,0mm width. All the Curb Chain Bracelets are available in lengths from 16,0 - 25,0 cm in 1 cm increments. Special lengths are also deliverable on request. Shop gallery silver chains:
Silverchain Curb Chain Bracelets

More sub categories:
Eine Panzerkette Silber ist zweifelsfrei der Klassiker unter den Halsketten und in seiner extrabreiten Formgebung ein echter Blickfang – egal ob zum lässigen oder zum schicken Kleidungsstück, dank des zeitlosen Designs lassen sich Panzerketten abwechslungsreich kombinieren. Durch die Form der Glieder liegen die Ketten flach am Hals, Schulterbereich an und sind angenehm tragen. Mit einer Panzerkette in einer 925 Sterling Silber -Legierung, (Das entspricht einem Feingehalt von 925 zu 1000. Die restlichen 75 tausendstel Anteile der Panzerkette einer 925-Legierung bestehen in der Regel aus Kupfer. Wir versichern Ihnen, dass alle unsere Silberketten im Shop frei von Cadmium und Nickel sind), können Sie ein eindrucksvolles Statement setzen und Ihren individuellen Style unterstreichen. Die Herren oder Damen -Panzerketten sind in verschiedenen Ausführungen erhältlich. Je nach Vorliebe kann die Kette in einer kurzen (von 45cm 50cm 55cm 60cm 65cm) oder einer längeren Variante (bis 120 cm) (in 5cm Schritten erhältlich) getragen werden.
New products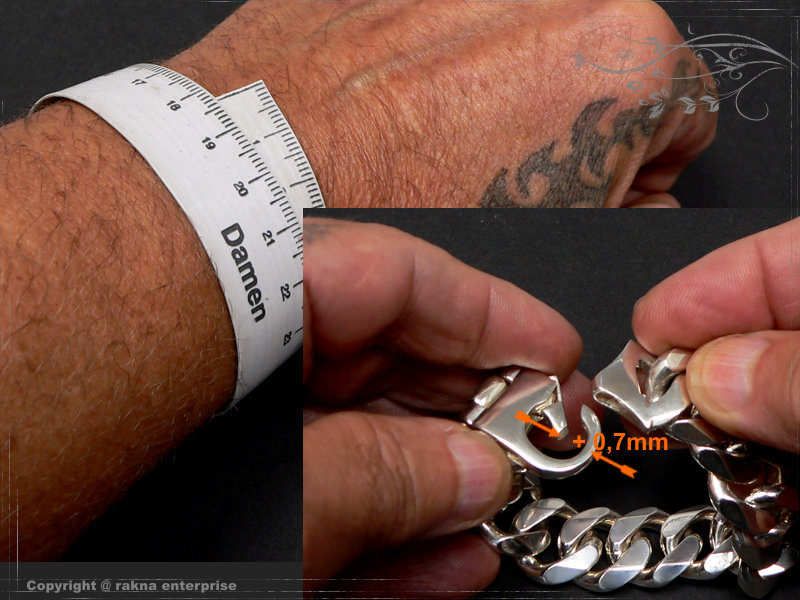 Copyright @ rakna enterprise
Pflegehinweise für Panzerkette Silber (925 Sterling):
Nützliche Reinigungsmittel bekommen Sie in fast jedem Drogeriemarkt:
Silber- Reinigungsbad:
Das Silbertauchbad eignet sich für stärkere und schwer zugängliche Verschmutzungen. Hier werden auch die Stellen gereinigt, an die man so nicht herankommen kann. Tauchen Sie Ihre Panzerkette entsprechend den Anwendungshinweise auf der Verpackung kurz in das Bad und bürsten schwerzugängliche Stellen mit einer kleiner Bürste nach. Danach die Silberkette gründlich mit klarem Wasser ausspülen und trocknen.
Das Anlaufen von Schmuck ist eines der am häufigsten, im Diskussionsforum angesprochenen Themen "mein Silber wird schwarz!" Silber und Silberlegierungen laufen prinzipiell an. Das ist kein Fehler, sondern eine bekannte Eigenschaft jeglicher Silber Legierung. Beim Anlaufen reagiert das Silber übrigens nicht mit dem Luftsauerstoff, sondern vor allem mit Schwefel, z.B. mit dem in der Luft enthaltenen Fäulnisgas Schwefelwasserstoff. Die Folge sind nach und nach entstehende gelbliche bis schwarze Beläge aus Silbersulfid sowie Kupfersulfid und Kupferoxiden des Legierungspartners Kupfer.
Sollten Sie Probleme mit Silberschmuck wie Panzerketten und Armbänder haben, empfehlen wir eine rhodinierte Version zu tragen, denn Rhodium ist sehr reaktionsträge, widerstandsfähig und hart. Silberschmuck wird deshalb gerne rhodiniert, um ihn vor Oxidation und dem damit verbundenen unerwünschten Anlaufen zu schützen.